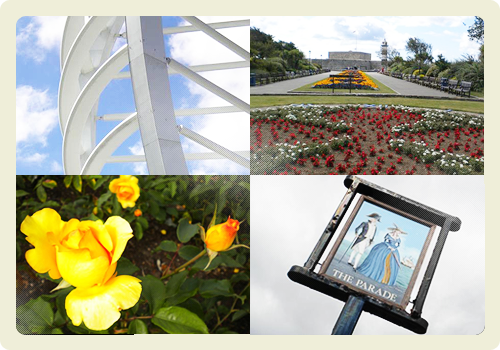 Sunday, August 14:

I expected Portsmouth and Southsea to be smaller versions of Brighton which I had visited (and loved) a few weeks earlier and in a sense it was indeed quite similar; a laid back city flanked by the Celtic Sea. I did, however, find Brighton far more entertaining and a lot prettier. Its lovely beaches were filled with sunbathing people and cheerful beach chairs whereas the Portsmouth and Southsea harbours were smaller and filled with boats and far less people. Of course it didn't help that the weather was much gloomier that day in Portsmouth and Southsea either. Don't get me wrong, I had a lovely escape away from London but when expecting to visit a Brighton duplicate it was a bit of a disappointment.

It started off in the morning when I went to check out the alternative shopping district and found every single shop closed. Yes, it was a Sunday but London has spoiled me completely and I simply assumed everything would be open, but alas. So I quickly set off towards Southsea Castle (which was not at all impressive compared to the castles Jules and I visited recently across Wales and England) and the harbour, and randomly came across a Thai food festival oh nom nom nom.

After a lunch consistent of tiny springrolls I continued on on my walk along the coast all the way to Portsmouth City Museum. The most notable exhibition in the museum was A Study in Sherlock: Uncovering The Arthur Conan Doyle Collection which was located there because Arthur Conan Doyle had a a medical practice in the city. Unfortunately photography of the exhibition wasn't allowed so you'll just have to take my word for it when I say that it was really interesting and informative. They also had a section highlighting various pieces of merchandise the franchise has sprouted throughout the years which included a Snoopy figure dressed up as the consulting detective himself, hee!

Next up I walked to Gunwharf Quays, and o my! It was for the most part an outlet shopping mall with major shops such as Gap, Superdry, Jack Wills, Guess, O'Neill and Calvin Klein selling heavily discounted goods. There were even shops for Thorntons and Cadburys that sold discounted chocolate. Needless to say I spent most of the rest of the day in the mall gawking at the large selections of clothes and other goodies (there were also various cook shops, I love cook shops!). In the end I really didn't buy all that much but it was so much fun nonetheless. The outlet mall made the rather long trip definitely worth it.

My plan was to also visit Cascades Shopping Centre but considering the amount of hours I spent at Gunwharf Quays by the time I reached the shopping centre it was just about to close. So instead I went to Victoria Park for a bit and read in the few rays of sun I could find before I had to head back to the nearby Portsmouth & Southsea station to make my trip back to London.



(as I spent more time shopping than doing anything else I don't have my normal amount of several hundred pictures to share)



Ominous dark clouds looming in the background...



People playing cricket, so awesomely British



Unimpressive Southsea Castle



Porstsmouth City Museum



I loved the Spinnaker Tower at Gunwharf Quays