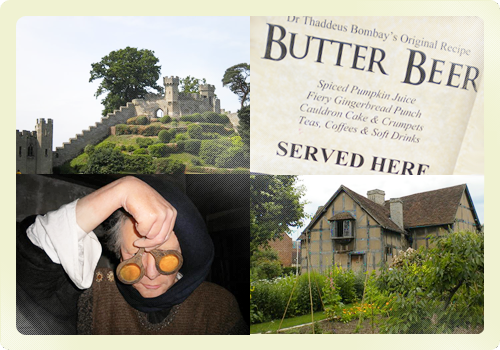 Day 11: June 27

Today was our daytrip out of London and we had to get to the Victoria Coach Station bright and early as I had booked us the longest tour I could find hoping that would give us a little extra time in the places we were going to visit that day. We arrived about 10 minutes before the bus was supposed to depart and there was nothing on the screens indicating where we had to go to, which was a bit stressful as we had to queue (with little time to spare) to ask someone, but eventually we got directed to the right gate. There we found out that the bus wasn't leaving for another half hour! So we'd been rushing to the station for nothing *grumbles* At least we were near the front when got onto the bus so we were able to pick our seats. I initially wanted to sit behind the driver assuming it'd mean more leg room but the opposite was the case so we moved one row back which was still a great spot as it meant we had a clear view on our Irish tour guide John and were actually able to hear everything he told us along the way, which most of the rest of the bus wasn't able to apparently.

I really enjoyed the drive to our first destination. John was being very informative about all the places we were passing without being boring. I was actually going to write down all the interesting tid-bits about London so I could talk about them here - but of course I forgot to do so! I do remember one of them (though he may have told this in Straford-Upon-Avon, not in London) which was the reason why pubs always have those pretty signs hanging on the outside. I assumed it was for decorative purposes, but that isn't the sole reason. Back in the day the proletariat couldn't read so if they were meeting up with mates in a pub called "The Fox and the Hound" they just had to look at the pictures on the outside to find the right location.

The first stop of today was Warwick Castle, not to be confused with the castles and ruins we'd seen in Wales the week beforehand as this was more of a theme park with shows, rides (well sort of: Merlin's Dragon Tower), people in costume and lots of themed merchandise. Unfortunately we had very little time there to actually enjoy the place and take it all in (a recurring theme that day, reminding me of why I generally dislike organised tours - I much prefer to plan my own time!) as we'd been given just a little over an hour to explore a place we could've easily spend a full day. Instead of having a go at archery, go into the Dragon Tower (which was themed after the TV-show Merlin) or go to any of the shows, all we had time for was rushing through the various rooms of the castle and snapping pictures of the displays to look at later on. It was still enjoyable, but oh so rushed. It all looked amazing though; the puppets looked very real and wore gorgeous clothes, the rooms were stunning (I wanted to move in right there and then!) and we even were treated to a little show as we entered an area prepped for a Royal Weekend Party where we were greeted by a butler before having to make small talk with a very drunken aristocrat. We weren't sure what to say/do so it was a bit awkward but giggly fun nonetheless as it had been so unexpected. After browsing a shop for ten minutes or so we had to rush back to the bus as we'd been warned that they wouldn't wait for those that were late, which was understandable considering the tight and busy schedule, albeit a somewhat frightening thought to possibly get stuck somewhere. We made it in time, despite the bus being very far away, and off we were to the next stop.

We drove through an area called the Cottswolds which was filled with cute cottages, a beautiful place to retire I'd say. The next place we stopped at was Stratford-Upon-Avon (or Shakespeare Disney as
littleyuzu calls it, hee!) an absolutely adorable village. As soon as we got near I as in awe of the cute houses and cobblestone streets, this is the England as always depicted in old shows I used to watch and it all had a very holiday feel to it. We went to the b>Shakespeare Centre and Birthplace</b> first with the entire group as entrance fee to that was part of the tour (this is also where I let the whole group astray at some point, whoops!). It was quite interesting (though rushed as with everything) as we went through the various rooms to watch informative videos and displays (and geeked out over a large banner showing David Tennant, as you do) before heading to the house where he was born - the most adorable cottage ever. Unfortunately we did not have time to properly explore it (it was too busy anyway) as there were a few more things we wanted to see in the city before we had to return to the bus. So instead we pretty much ran through it before making a quick stop to get our picture taken in front of the house.

Next door was the The Creaky Cauldron (see what they did there?) which advertised Butterbeer (for those not in the know, that is a drink from the Harry Potter stories), omg! Unfortunately it was super expensive and didn't even look that appealing so I didn't end up getting a glass (not that we had time anyway!). Instead we just quickly browsed the wizard displays (they had wands, herb bottles and even an owl) and regretted not having the time to go into the Wizardology museum upstairs.

While Jules went to grab a quick lunch a few doors down I browsed some of the tourist shops before we headed towards a little square along the water, which we'd seen earlier from the bus, where there were various statues of Shakespeare characters as well as one of the Bard himself. Unfortunately it started spitting while we were taking photos but it wasn't too bad and pretty much as soon as we got our umbrellas up it stopped again. We still had some time left before we had to be back at the bus so we browsed some more themed shops (even a Christmas one! I love Christmas shops <3) and Jules spent waaaay too much money on a DVD box set (:P) while I went to take some photos of a Jester statue I'd seen earlier.

After waiting for a few extra minutes on two people from the tour who had gone AWOL (a mother with a young son) the driver took off without them (O_O worst nightmare!) as we had to arrive in Oxford by a certain time. I have been to that city before but this time got to see a completely different side of it. Not only did we pass an Alice in Wonderland store on the way there (which we sadly did not get to visit) but most of the tour was centered around the stunning Christ Church College, home to Lewis Carroll (as that was his residence until his death and the character of Alice is based on the daughter of the headmaster at the time) and the Great Hall from the Harry Potter movies. Again it all was very rushed but Jules and I tried to take our time when were in the Great Hall taking pictures from the long tables the Hogwarts students sat at and together with another tourist tried to think of the right positions for the Hogwarts teachers in the seats towards the back - fun! There was also a gorgeous stained glass window in that hall which had various Alice in Wonderland characters around the edges and they looked a lot like the Disney versions so we figured that the window was probably where the inspiration for those had come from. Distracted by all the pretty we completely lost our group but thankfully we caught up with them not too long after outside for a quick tour of the city. I do not entirely remember what we saw during that other than a replica of the Bridge of Sighs (the original in Venice I'd seen before, though I only afterwards realised that the Oxford version was a location in the new X-Men movie). I may have let the tour astray a few more times during this period (including the guide!), but we all made it back to the bus in the end.

On the way back to London the guide got informed that a large part of the city was inaccessible (we never found out for what reason) so he dropped us off near Gloucester Road Station instead, which was fine because as soon as we got off the bus I realised that's near where I used to work so I actually knew what way we needed to head. We took the tube to Charing Cross station for dinner at the Sherlock Holmes Pub (hey can't get more touristy than that). Service was a bit slow but the chicken tasted delicious and it was so much that I didn't even get close to finishing it.



Photo from the bus while driving (so blurry-ish..)



Warwick Castle



This was an animatronic, quite freaky!



I did meet a knight and a princess XD



Spot Bomer XD



Oh right, we met the queen too!



And this other famous guy ;)



*giggles*



At the Shakespeare Centre in Straford-Upon-Avon (why hallo thar Joseph Fiennes!)



A certain mister Tennant



The adorable looking cottage



This village properly exploited tourists, the places along the German Fairytale Road could take a page from Stratford-Upon-Avon's book!



The Creaky Cauldron



Christ Church College in Oxford



This looks like it's from a fairytale and may have been an inspiration for Lewis Carroll's Wonderland ;)



The Great Hall, omg!! *Harry Potter geek out*



I may have several dozen pictures of tables *shifty eyes*



Spot the Alice in Wonderland characters around the edges!



Bridge of Sighs replica







Day 12: June 28

During the last day of our holiday the weather was surely not making it any nicer, being a typical UK gloomy day. The rain held out while we were exploring Greenwich but that was about the most we could've hoped for. I've been to Greenwich plenty before as I live quite close to it, but there were some places I really wanted to show Jules. One of them being The Old Royal Naval College, which I think is absolutely gorgeous and not surprisingly has been used as a filming location for a lot of movies, most recently Sherlock Holmes (the Robert Downey Jr version) and Pirates of the Caribbean 4 (the latter being so recent they even had cardboard near life-size replicas of the actors inside XD). We went inside The Painted Hall and The Chapel, and they were gorgeous! Even though I'd been in the area before I had never actually been inside (I know, shame on me). The Painted Hall (see pictures below) was especially gorgeous with pretty much every surface painted elaborately. We also went to the Royal Observatory but sadly because it was so gloomy the normally quite good view of London couldn't be seen. Instead I spent a little time in the park luring squirrels with crackers so Jules could take pictures of them :D

The last thing we visited in London that day was Camden. The main street to the markets was a bit too touristy for our liking (though the shops are nice to take pictures of from the outside) and it took me a while to find the Stables (getting lost along the other indoor markets), but we spent a few hours browsing around the area and killing time. I saw quite a few cool things but sadly didn't have the funds for them, though Jules found a few shirts from a series she really likes so we hadn't gone all that way for nothing. While we were inside it started to absolutely pour down (London at its best!) and though it wasn't that bad when we eventually made our way back to the station, it was still very wet out *shudders* As Jules had to catch her plane all the way at Heathrow I didn't go with her to wave solemnly while the plane was taking off, instead we said goodbye at Leicester Square station where she grabbed the Piccadilly line to the airport and I the Northern line to get to the cinema as I was seeing Larry Crowne that night with Stacey. Saying goodbye in a station while ones train is pulling up is a bit weird, but at least it wasn't as bad as an tearful goodbye at an airport customs :P



Old Royal Naval College in Greenwich



The Chapel



The Painted Hall (I guess you're wondering why they gave it that name huh?)



*waves at Johnny*



Old Royal Naval College as seen from the top of the Royal Observatory