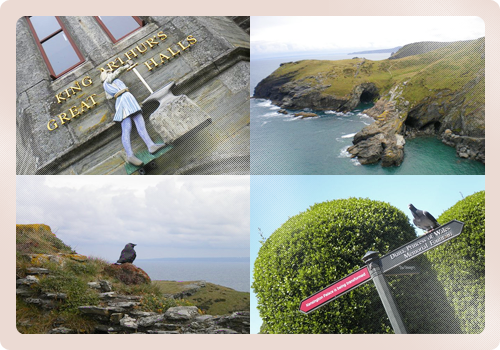 Day 8: June 24

Today was another early start as Jules had the crazy idea to drive all the way to Tintagel (also known as King Arthur country) and then back to London in one day. Mind you, Tintagel is in Cornwall, about three hours from Bristol and nearly five from London. I had been quite hesitant at first to make this journey but am really glad afterwards that we went as it was a fab place to visit (though we probably should've stayed nearer there overnight so we only had to make the trek back to London in the late afternoon). To get ready as soon as possible in the morning we packed up all our stuff, brought it to the car and checked-out of the hotel before breakfast as they didn't start to serve that until 7am. After the quickest breakfast ever (with huge chocolate muffins! I grabbed one for lunch too) we were off for another few hours of driving through hedges (Annie, our GPS, loved narrow, winding roads surrounded by tall hedges making it impossible to see anything) and listening to our soundtracks and the radio before we arrived in the village

We couldn't actually see Tintagel Castle at first, which had us quite confused, but we followed the signs by making quite a long trek uphill until we hit the visitor's information and spotted the first castle remains even higher up in the mountains. The guy in the shop answering our question about Merlin's Cave was very lovely explaining things to us and even walking us to a look-out point to show the cave to us. Unfortunately our timing was poor (it was Bad Wolf Bay all over again) as the tide was just coming in which meant we couldn't explore the cave without getting wet so we passed on that one. Instead we climbed to the first part of the ruins which wasn't a very high climb but the steps were so steep and awkward that we felt pretty exhausted once we reached the top. I sat down for a bit while Jules explored something and after that of course she wanted to go back down but because I was mostly recovered I was determined we'd walk the bridge to the other side with a much larger climb as it seemed much more interesting part of the ruins than where we'd just been. I'm glad I was being so stubborn because that site was awesome and provided a great backdrop for a Bomer (Jules's raccoon she bought in German which is becoming our mascot on our holidays) photoshoot.

We didn't have a whole lot of time so when we'd wandered back down into the village it took all our restraint to not stop at any of the cute gift and fantasy shops with Arthur and Pendragon related names as we wanted to explore King Arthur's Great Halls first. This was something Jules had found online and it was really neat. It was sort of a museum, but more awesome. The first room we went into had a huge throne and several smaller ones (I sat in the big one) and we got our own private light/story show. It went entirely dark while a voice-over (Merlin) told the story of the Knights of the Round Table (with lots of info on Lancelot, yay team!Lancelot - it's a long running joke between Jules and I, as she prefers Gawaine and I do Lancelot) and a light would shine on a picture on the wall depicting the scene he was talking about. It was very informative and I heard things I didn't know about beforehand. After that was finished we really wanted to take pictures of the awesome paintings on the walls, but alas the lights didn't go back on, so we moved onto the next room. First thing we saw there was the round table... cut in half! We couldn't believe they'd done that. We did spent a fair amount of time taking pictures from the names of our favourite knights and when we walked into another room they had another round table there, this time whole :D In all we spent maybe half an hour wandering around there and taking pictures of everything before a huge group of school kids came in and it became impossible to do so so we left.

Thankfully having some spare time left (though not an awful lot) we then wandered through the village and went into the various shops. For the most part they looked better from the outside than they did on the inside so it wasn't a terrible disappointment having to rush through the village, though it would've been nice to have a bit of time to just sit down somewhere. I did manage to get a half decent picture of the old post office, which was a quaint little building, before we were back at the car and preparing ourselves for the very long trip back to London.

Before we could make the journey back we really had to find a gas station and while looking on the GPS for ones near us I saw one aptly named Camelot Garage. Very awesome, but I figured it was a small one-man business and likely more expensive compared to big chain stores so instead we just got on the road and eventually drove off to a Tesco where we were very lucky with the gas price at the time. Very strange was the fact that we had to press a button to get it to start up (have never seen this before) and when we couldn't initially figure it out I went inside to enquire about this and they were being really rude to me :/ Ah well, many hours and lots more playings of the Glee soundtrack later we arrived back at Avis in London. It was absolutely pouring down yet they wanted us to grab our stuff and leave the car while it was still queued up to go back inside. Luckily we were able to find cover not too far off to properly get our abundance of bags on us before saying our goodbyes for the weekend (as Jules was off to the Chuck convention - jealous!).



The Clifton Suspension Bridge



Random pretty building along the way



Tintagel!



Merlin's Cave



Lots and lots of steps...



King Arthur's Great Halls



The Old Post Office







Day 9-10: June 25-26

Having the weekend to myself my initial plan was to catch up with things online and do house chores (laundry, etc.) but the weather was so nice that on Saturday I went to Kensington Palace which I hadn't been to before. I currently have a three-month trial of the National Art Pass which means I did not have to pay entrance fee which seemed to have been the final motivation that I needed to go ;)

I am very glad that I finally went as it's a lovely place to visit. While they're currently doing major refurbishments and little was actually open they had transformed it into the "Enchanted Palace", a magical place where visitors follow clues to find the seven princesses from the past. It was all very fairytale like and they even had people dressed in a sort of steampunk outfits wondering around muttering to themselves like crazy professors and they were supposedly trying to figure out how items in the castle kept appearing to make new exhibitions. It was all very cleverly done and these people really added to the experience. Furthermore, it was a very informative visit with a lot of guides walking around that in my mind I dubbed "walking Wikipedias" as they really seemed to know the answers to the most random and oddest questions. In all a very interesting and fun visit.

On Sunday I did in fact try to catch up with a lot of things, so I didn't go out and enjoy my holiday as such. Which was probably a good thing as I needed to save some energy for the day trip we were going to make on Monday to Warwick Castle, Stratford-upon-Avon and Oxford. But more about that in the next (and final) update of this trip.