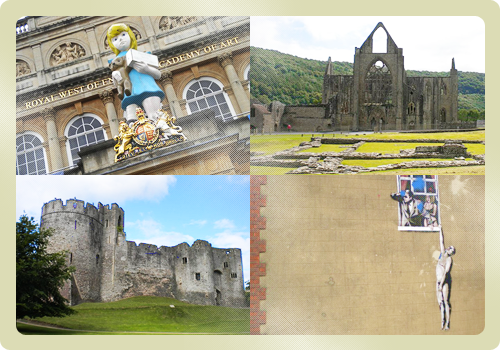 Day 7: June 23

Because we were going to make the trip to back to England today (Bristol to be exact) and there were still a fair few things we wanted to see in Wales on our way, we left the hotel really early (after a last lovely breakfast that is. I loved the sweet pastries they served in the morning and made sure to take a few along with me for on the road). The first stop was the Caerleon Roman Amphitheatre just outside Cardiff. Unfortunately we weren't able to go inside as we got there earlier than it opened, but we managed to take a few decent photos by climbing on a nearby wall.

Up next was our final castle in Wales, the gorgeous Chepstow Castle. I absolutely loved that place and if the previously optimistic looking blue sky hadn't suddenly turned into grey clouds and pouring rain I would've loved to see it at a slower pace. As it was, we spent just enough time there to see everything slightly rushed and had to run down the hill through the pouring rain without our umbrellas (as the previously nice weather had fooled us into believing we wouldn't need them). This was the one time during our holiday we got absolutely soaking wet, but thankfully my shirt dried up really quickly in the car so in the end it wasn't too bad.

We went to Tintern Abbey next which looked absolutely amazing in the photos I'd seen. Jules just wanted to take pictures from the outside but I was so impressed by this giant Gothic abbey without a roof that I was determined to explore it properly from the inside too and I'm glad I managed to convince Jules to do so (besides, she took "revenge" afterwards by spending like half an hour in the shop buying lots of jewelry :P). The abbey looked really stunning, nothing at all like all the castles and other ruins we'd seen during our trip and I got very snap happy with my camera while Jules was trying to preserve hers as she was running out of memory. We also did a fun photo session on one of the pillars in the middle of the abbey were Jules pulled a Yatta and per my request pretended to be meditating and I followed suit as her picture turned out so cool. Tintern Abbey was hands down one of my favourite places we visited during our entire trip.

We'd been really lucky with the weather as we hadn't felt a single drop while in the abbey but as soon as we got in the car it started pouring really badly again. We then took the bridge from Cardiff back to England and I sat all ready to take photos of it (as we'd been so impressed by it on our way to Wales originally) but only realised when we were about midway that it was a different bridge, alas.

Berkeley Castle was next on our list, but as we had been so spoiled by our Welsh castle pass that provided free entry into all castles we thought that spending close to £10 on the entrance fee for this one was just too much (that was about the same price the pass for all castles in Wales had costed us!). So we ended up not going inside of this one, but we did wander around the back and saw a church and a sneaky way to enter the castle without paying (which we didn't use).

Our final destination of the day was Bristol, which we didn't get off to a good start with. As soon as we neared the city traffic became a pain and we were instantly missing wonderful Wales with all it's kind people that were so generous to other vehicles on the road. But alas, we were not in Oz any longer. The first place we stopped at near the city was Totterdown, for the pink house made famous in the first seasons of Being Human. And lo and behold this was actually a site I recognised! Not did I remember the pink house, but also another locations in that street which wasn't even on Jules's stalking list originally.

After Jules reached her geek quota by getting her "Mitchell gloves" photographed with the pink house as a backdrop we drove through more painful traffic towards our hotel. Not quite in the city we were only a few meters away from the Clifton Suspension Bridge but because the weather was very gray everything just looked gloomy and I wasn't able to appreciate the sight. Furthermore, parking for the hotel was around the back down a steep slope and we had to drag our luggage all the way up and back around, which was a royal pain.

The hotel, called Avon Gorge Hotel, was really lovely otherwise. After walking back up and down to the car to put a parking permit on the dashboard we made the long trek through the hotel down various steps and levels to our room which was really huge and looked great. We even had our own little balcony with a garden below but sadly the entire time we were there it was raining so we never got to make any use of it. The hotel also had free wifi so one of the first things I did was use that for a bit (it was pouring outside anyway, so we weren't in any rush to get out) and also made sure to empty the memorycards from both our cameras onto it so we were actually able to take photos again later that day.

Not having any set plans for Bristol, other than a few Being Human locations for Jules, we drove into the city centre and wandered around aimlessly for a few hours. The weather was still pretty shit so we just hopped from store to store trying to stay reasonably dry. Highlights included a cupcake shop (where I got a delicious brownie) as well as various cute gift stores that sold items by the brand Gorjuss (which Jules was raving about and I quickly fell in love with too - I even bought a few of the postcards just because the art is so cute) and awesome notebooks such as one that looked like a videotape and even came with a removable sleeve resembling a tape sleeve. But other than that, Bristol wasn't that impressive and we both kept saying how much we were already missing gorgeous Wales.

For dinner we went to the Ostrich Pub, because it was also a relevant location to Being Human (I forgot again what it was, clearly I wasn't paying proper attention) but it turned out to be an absolutely pain to get to. I'm pretty sure were were stuck on the same bit of street for an hour smackdown in the middle of the city because traffic was just not moving at all. And when we finally moved away from the street it turned out that the bridge we had to take to the other side of the river was under construction so in the end it took us about two hours to get to that pub! And honestly, it was hardly worth it. Service wasn't that great and my meal was ridiculously salty (I actually felt ill from it all evening). Needless to say our experience of Bristol wasn't anything to write home about and I was glad we were only there for one night/half a day.



Caerleon Roman Amphitheatre



Chepstow Castle



Dark clouds looming...



Jules the drowned cat ;P



Tintern Abbey, doesn't it look amazing?



The Being Human house



Our hotel



Bristol



Awesome notebook is awesome



The hospital, also a Being Human location



Clifton Suspension Bridge