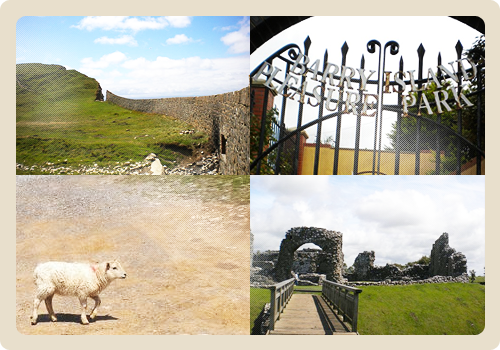 Day 6: June 22

Today was our epic roadtrip (basically what we did for nearly two weeks in Germany). We had made a rough plan of what we wanted to see along the way and figured we'd just see how far we could drive along the Welsh coast before we ran out of daytime. The first place we visited was Barry for the Being Human addicted Jules. We saw various of the locations that sadly didn't mean much to me as my memory is crap but it included a police station, Barry Island (with a freaky ancient looking pleasure park and a gorgeous beach) and the house where George, Nina, Mitchell and Annie lived in in the latest season. Along the pleasure park and the island there were various signs advertising that Gavin and Stacey had been filmed there, prompting Jules to say there should've been Being Human signs too.

Next we tried to see as many castles as we could that were located roughly along the route we planned to drive (which was driving West along the coast). Unfortunately they weren't always easy to find meaning that several times we made a detour of a little under half an hour - often through high hedges so it almost seemed like we were driving through a maze - for nothing as we never ended up at the castles that were on our map. We still ended up seeing quite a lot of them today though, starting with a very brief stop at St Quentin's castle before heading towards the super lovely Ogmore Castle. Despite the fact that the grass was covered in sheep shit and the castle was really not that large it was one of my favourites from the entire holiday. The weather was beautiful at this point and the bright blue sky provided a gorgeous contrast with the dark grey ruins in my photos. Of course we spent some time climbing the various rocks and wall remains, before heading to the next castle on our list.

We made a very brief stop at a small ruin near Osterley-by-the-sea before heading for Southerndown Beach (better known as Bad Wolf Bay from the Doctor Who episode Doomsday. While driving there we finally sort of hit the coast line and we made a stop to take a few pictures of a pretty beach and random sheep that were wandering over the road and parking lot. Unfortunately our timing to Southerndown was very bad as it was high tide when we arrived there so it only vaguely resembled the beach I knew from Doctor Who. Still, despite the cold we went out and snapped some photos of mainly the water and a small sliver of rocky beach that was visible.

Next up was Swansea (after unsuccessfully trying to find a few other ruins in the area) which was a big disappointment as it was basically one ugly (sorry but it was, nothing compared to some other awesome things we'd seen) bit of wall in between modern buildings. We spent as little time as possible in that city, though we did end up staying a little longer trying to fix up the paint on the car as Jules had scratched it slightly against a pole when parking. Note for the future: a bottle of water and the metallic strips that hold pills are excellent cleaning tools!

Off we went to yet another ruin that maybe once resembled something of a mighty fortress: Oxwich Castle. While much better than what we found in Swansea we were getting quite pressed on time at this point (as I knew all castles would close at 5pm with latest admission at 4.30 and we still had another one to travel to) so we spent only about half an hour in the area, which also included getting distracted by the horses nearby. I ended up taking pictures from all the information stands around the castle with the idea to read it all later to save me time, but of course I still haven't read them all.

The last castle we were able to fit in that day was Weobley Castle and I thought it was absolutely fab. We wasted a few minutes ringing the door bell of the house near it (as instructed on the sign) but when no one answered we just went inside figuring that our pass covered the entrance fee anyway. This castle was one of the larger ones we visited during our holiday and the surroundings were absolutely stunning. With a beach and water in various shades and colours it reminded me of Australia. We spent quite some time climbing everything that was even remotely climbable (and even tried when it wasn't) and also took some jumping pictures because the nearby hill provided a great spot for this with a beautiful backdrop (my jumping picture looks weird though, so I'm not including it in this entry). Also, Jules saw a guy who was peeing against one of the walls and she joked that "peeing on a castle" must've been on his bucketlist.

Actually, Weobley Castle wasn't the last one we visited that day, but Raglan Castle was (dubbed Lego castle by Jules though I thought it resembled a Playmobil castle instead). However by the time we finally got there it was already closed so all we could do was maneuver a way through the hedges to try and get a semi-decent picture from the side road we were on. To not make the trip completely worthless we decided to have dinner in the nearby village, but it was proving harder than expected to find something. The first place we went to had a handwritten sign on the door notifying us that they were closed that day because of difficulties with one thing or another and the next place we found was far too expensive.

Eventually we decided to just drive back to Cardiff and have dinner there instead. I had previously noticed the Blackweir's Inn upon driving into the city and since it looked interesting we ended up going there. I had a delicious lasagna and we also had an unexpected encounter with Jonathan Groff. In the bathroom! Which actually just was a JGroff picture on the door of one of the girl's stalls, however it was quite funny at the time because it was so utterly random.



The house from the latest series of Being Human



The beach on Barry Island



Barry Island and Pleasure Park



Creepy...



St Quentin's castle



Gorgeous Ogmore Castle



Random beach along the way



And a sheep on the parking lot...



Southerndown Beach, just image Rose Tyler on it and a slowly fading image of the Tenth Doctor ;)



Swansea "Castle" (that's what it was called on the map...)



At Oxwich Castle



More random sheep we encountered on our route



Weobley Castle



With a gorgeous view



A very faraway picture of Raglan Castle